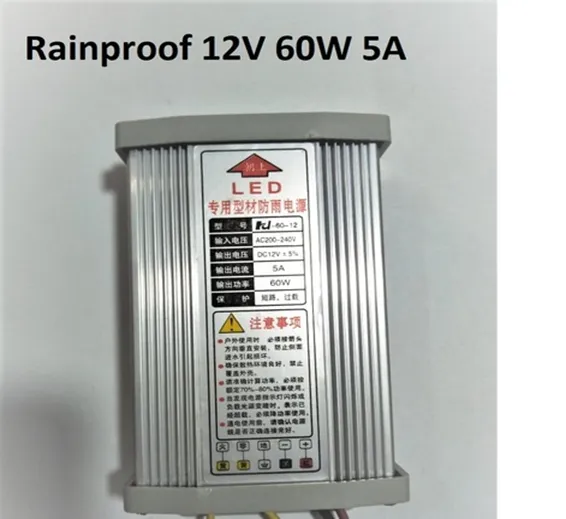 Lights
Outdoor Transformer 12V 60W For LED Landscape Lighting
Availability:
Out Of Stock
SKU: RAWLIXOut
Once your
landscape lighting
design is complete, you can figure out what size of low-voltage Rainproof Power Supply you need. This Outdoor LED 12v dc power supply / Transformer has a 200 – 240AC input and 12VDC 60W output. Rainproof Outdoor 12v Transformer For Landscape Lights can be used to connect large amounts of LED Lights, LED Light Ribbons, RGB LED lighting and any other 12VDC Constant Voltage LED Lighting products, special for
landscape lighting
. Landscape lighting is needed in many residential and commercial areas. Whether it just be small security lights, pathway markers, or just added accent lighting around the grounds.
Features Of Rainproof Outdoor 12V 60W Power supply For Landscape Lighting:
With short circuit protection, overload protection, and stable output voltage

Weatherproof aluminum shell

Built-in EMI Filter
High efficiency and low temperature
100% load tested
Direct wire screw terminals, single rail output, three sets of output terminals.
Mounting tabs on top with two holes allow easy mounting
Automatic cutoff when overloaded with auto-reset
CE, ROHS, and EMC approved.
Specifications Of Outdoor 12V Transformer For LED Lighting:
Weatherproof aluminum shell
Protection Rating: IP53
Input Power: 200/240VAC (can also be configured for 110/120V operation)
Output Current: 5 Amps of power at 12 volts DC
Output Power: 60 watts
Connection Type: Direct wire screw terminal block
Power Input Terminals: 3 (Ground, N-Neutral, L-Load/Hot)
Power Output Terminals: 2 (+,-) [single rail]
Recommended Uses:
All types of strip lights
led lighting
led display
landscape lighting
CCTV security cameras
Installation:
MUST BE MOUNTED VERTICALLY TO MAINTAIN RAIN PROOFING
16 AWG copper wire is recommended for the AC input
The DC wire needs to be appropriately sized for the load
Package Include:
1x Outdoor Transformer 12V DC 60W For LED Landscape Lighting
Buy Outdoor Transformer 12V 60W For LED Landscape Lighting at Pakistan's Best Online Store at cheap price. Here you get a wide range of Outdoor Transformers. We Deliver in Gujranwala, Karachi, Lahore, Islamabad, Rawalpindi, Multan, Quetta, Faisalabad and all Over Pakistan