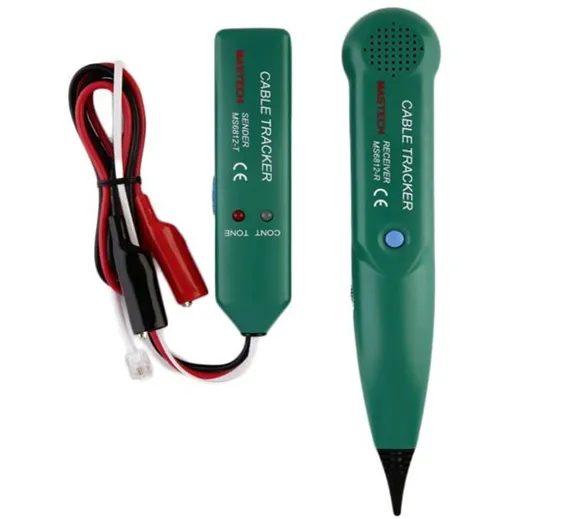 Lights
Network Telephone Cable Tracker MS6812
SKU: ODM,TH,KRT
Network Telephone Cable Tracker MS6812 is designed to identify and trace wires or cables within a group without damaging the insulation. MS-6812 wire tracker tester, for the telephone line, it can identify some state in the line, and more convenience to install, debug, maintain telephone line. There is a Sender(MS6812-T) and a Receiver(MS6812-R) are included in cable wire tracker.
Features Of MASTECH MS6812 Telephone Network Cable Electric Wire Finder Tracker:
Rapidly trace the target wire among plenty of wires.
Quick continuity test of cables and wires.
Easy diagnosis of breakpoint of cable and wires.
Identify the status of the working telephone line (clear, ring, busy).
Sound and LED signal indicators.
Adjustable volume of the sound signal.
Specifications Of Telephone Line Tracer Tester MS-6812:
Top Generator Output (Square Waveform): Single(1500Hz), Dual(1300~1500Hz)
Dual(1300~1500Hz): c1.5kHz
Receive Frequency: 100Hz~300kHz
Power Supply: 2x9V 6F22 Batteries
Receiver Size : 238mmx43mmx26mm/9.4″x1.7″x1.0″
Emitter Size : 145mmx35mmx25mm/5.7″x1.38″x0.98″
Receiver Weight: 71g/0.16 lb
Emitter Weight: 87g/0.2 lb
Certificate : CE / ETL / RoHS
Applications:
Judge Continuity of the Cables or Wires.
Track the cables or wires, and diagnose the breakpoint.
Receive the tone signal on the cables or wires(telephone line).
Identify the state in the working telephone line(clear, ringing, busy).
Send a single solid or a dual alternating tone to the target cables or wires.
Package Includes:
1 x MASTECH MS6812 Sender
1 x MASTECH MS6812 Receiver
1 x Instruction Manual
Best Online Shopping website for Network Telephone Cable Tracker MS6812 Wire Tracker Tester Cable Locator Phone Wire Tracker in cheap price in Karachi, Lahore, Islamabad, Rawalpindi, Sukkur, Peshawar, Multan, Quetta, Faisalabad and all over Pakistan.