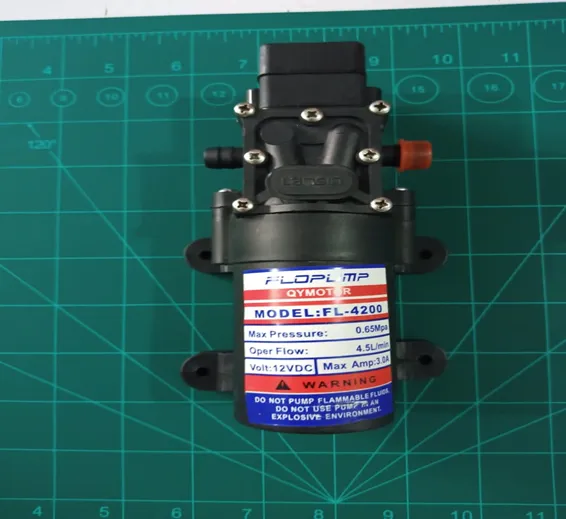 Lights
Mist Pump High pressure Low noise 12V 70W 4.5l/min Fog maker pump
SKU: TMD5,Th3,KRT
The high-pressure mist spray pump is high-quality self-priming water pump with an automatic switch.12V Diaphragm water pump fuels a high-pressure misting system by forcing water throughout the lines and nozzles at a high enough pressure that allows the water to atomize as it passes through the nozzles and into its surrounding environment. A high-pressure coolant pump has a maximum pressure of 10 kilograms and has an opening flow rate is 4.5 liter per minute. Water Mist Pump is suitable for high-pressure spray nozzles. It can use for Agricultural purposes: spray for farm, pesticide. Fog Maker Pump can also be used for Garden sprinklers, shower, water taps in the boat, caravan or motor home.
Features Of High-Pressure Mist Diaphragm Pump 12V 70W:
100% Brand new and high quality
It is a Diaphragm Pump
It is Self Priming Water Pump
It is Corrosion-resistant
It has an Automatic Switch
It has a flow rate of 4.5L/min
Rubber bracket can absorb vibration from the pump when working.
It Works whole day continuously
It has thermal Protection System
Ball Bearing
110 PSI Pressure Protection
Specifications Of 12v High flow high-pressure water spray Fog maker Pump:
Working Voltage: 12V
Power: 70W
Current: 3A
Temperature: 0-60 degree Celsius
Max Pressure: ~ 110 PSI (0.65MPA)
Flow rate: 4.5L/min
Size: 16.5 x 10 x 6cm (approx)
Range: 80m
Connector size fits 6-10mm inner diameter pipe
Caution:
The pump should be used in dry conditions, cannot submerge into the water.
Package Include:
Best Online Shopping Website for Mist Pump High-pressure Low noise 12V 70W 4.5l/min Fog maker pump diaphragm cooling spray pump in cheap price in Karachi Lahore Islamabad Rawalpindi Sukkur Peshawar Multan Quetta Faisalabad and all over Pakistan