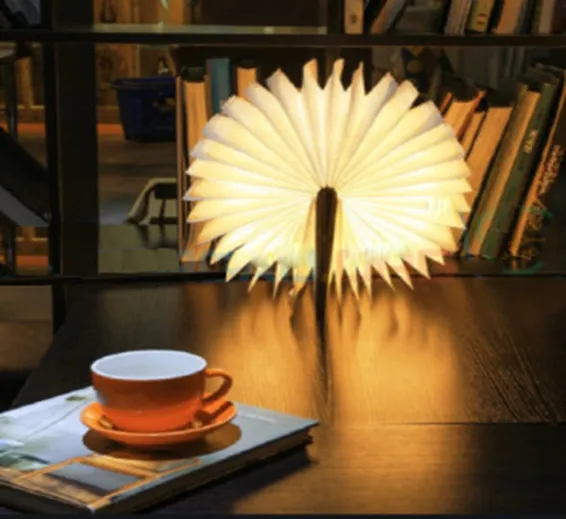 Lights
LED Book Shaped Folding Rechargeable Lamp (8.4x4.9x1)Inch
SKU: RAWLIXLED
It's a surprising gift to your family, friends and anyone you loved, a creative art lamp with soft light for your living rooms, dining rooms, and bedroom, and also it's a pocket light when you're traveling or picnic. It's not just a lamp but also a decorative art.360-degree rotation that can display a variety of different shapes.
Features:
With a USB cable and a rechargeable battery(built-in)
you can charge your book-shaped light extremely easily.
Small in size, it's very easy and very convenient to take with you and use it anywhere you want
With strong illumination and special appearance design, the book light is both practical and beautiful.
Made of Tyvek paper with high durability and strong water resistance, so the product is long-lasting.
You can use the changeable and foldable book light as a table light, floor lamp, ceiling lamp, and bedside lamp.
It's absolutely a perfect, special and amazing gift for your families, friends, lover, etc.
Specifications:
Cover material: natural wood
Book Page Material: white leather
Magnet: N52 powerful magnet
Light type: led lights
Charging voltage: DC 5V
Illumination brightness: 500Lumens
Battery voltage: 3.7V 2000mAh
Light color: warm white
Light power: 5W
Dimension:215mmx165mm
Working time:5-6 hours
Buy LED Book Shaped 360 Folding Lamp at Pakistan's Best Online Shopping Store at cheap price. We Deliver in Gujranwala, Karachi, Lahore, Islamabad, Rawalpindi, Multan, Quetta, Faisalabad and all Over Pakistan
Package Include:
1x LED Book Shaped Folding Lamp