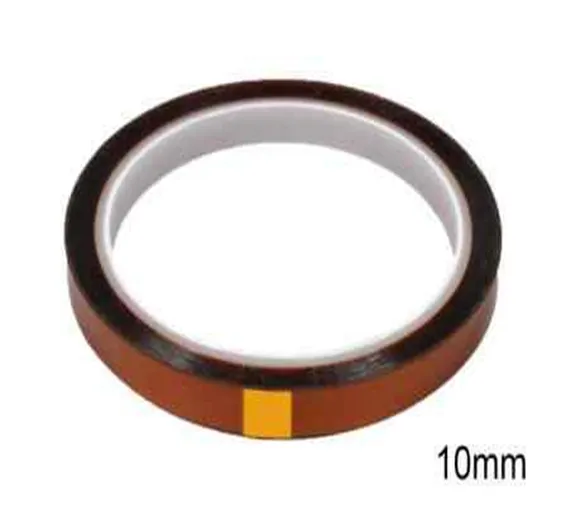 Kapton tape is commonly used as a wire and cable wrap as well as to protect electrical components during soldering. It is effective for both hand-soldering and mass soldering applications, such as wave soldering. In the electronics industry, Kapton tape is applied to circuit boards before wave soldering to shield gold fingers from the solder material and prevent unwanted electrical connections. The tape is also easy to trim with a razor blade and can be used as a temporary dust cover for ports in devices. Polyimide tape, also known as KAPTON tape, commonly known as high-temperature tape, finger tape, is a polyimide film as a base material, the use of imported silicone pressure-sensitive adhesive.
Specifications:
Substrate (Backing): 0.025MM polyimide film
Adhesive ( Coefficient of the Tape ): Silicone
Tensile strength ( tensile strength ): ≥ 140 N / 25mm
Elongation at break ( Elongation ): ≥ 40 %
Breakdown strength ( Breakdown strength ) : ≥ 150 N / 25mm
Withstand voltage ( Withstand Voltage ): 5 KV
180 0 peel force ( Adhesion ) : 5-6 N / 25mm
Applications:
PCB board finger temperature spray masking
Circuit board solder masking
High-temperature insulation transformer coil banding
Phone lithium battery manufacturing strapping
Heater fixing
Motor insulation
Buy Kapton Polyimide Tape High-Temperature Heat Resistant 10mm at Pakistan's Best Online Shopping Store at cheap price. We Deliver in Gujranwala, Karachi, Lahore, Islamabad, Rawalpindi, Multan, Quetta, Faisalabad and all over Pakistan.
Package Includes:
1x Kapton Polyimide Heat Resistant Tape 10mm