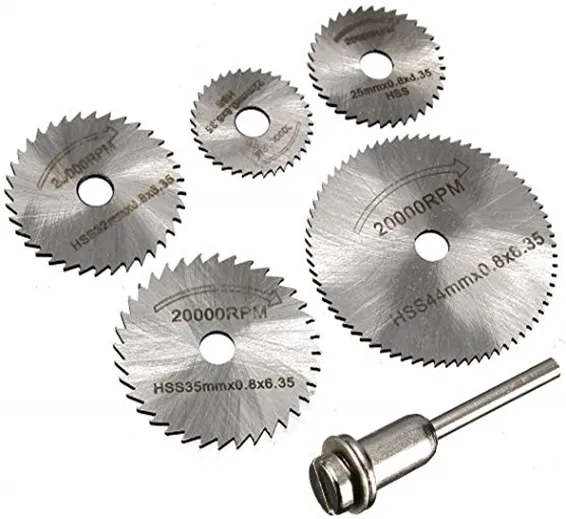 Lights
HSS Circular Saw Blade Set For Metal & Dremel Rotary Tools
SKU: D19,LS10,TH1,KRT
A circular saw is a power-saw using a toothed or abrasive disc or blade to cut different materials using a rotary motion spinning around an arbor. A circular saw is a tool for cutting many materials such as wood, masonry, plastic, or metal and may be hand-held or mounted to a machine.
Features:
Made from strong HSS high-speed-steel for durability.
Suitable for timber,plastic,fiberglass,copper,aluminium & thin sheet metal etc.
High-Speed Steel blades set for accurate, fast and precision cutting.
Specifications:
Brand: Drillprp
Model: SW-B1
Material: High-speed steel
Size: 22(25.32.35.44)*0.8*6.35mm
Extension Rod: 3.17mm
Note:
The rod must be clamped at the position of two-thirds above
Buy HSS Circular Saw Blade Set For Metal & Dremel Tools at Pakistan's Best Online Store in cheap price. Here you get the best dado blades and related Drill chucks and Electric drills. We Deliver in Gujranwala, Karachi, Lahore, Islamabad, Rawalpindi, Multan, Quetta, Faisalabad and all over Pakistan
Package Include:
1x HHS Saw Blade(22*0.8*6.35mm)
1x HHS Saw Blade(25*0.8*6.35mm)
1x HHS Saw Blade(32*0.8*6.35mm)
1x HHS Saw Blade(35*0.8*6.35mm)
1x HHS Saw Blade(44*0.8*6.35mm)
1x Extension Rod