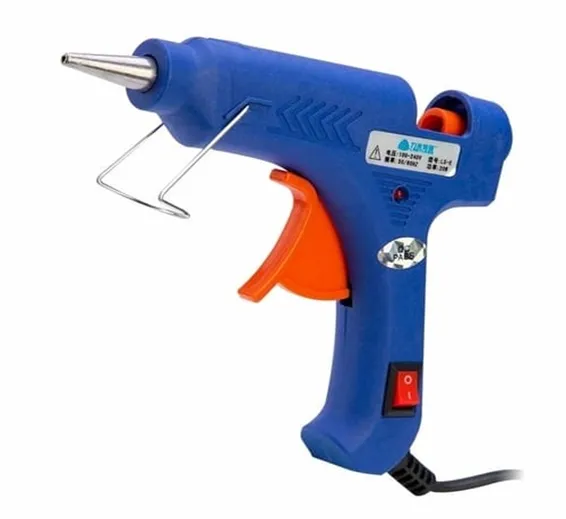 Lights
Hot Melt ABC-E20W Glue Gun For 7mm Glue Rod
SKU: LS10,TH2,KRT
The Hot Melt ABC-E20W Glue Gun is useful for all kinds of home, office and school projects. Because of this glue gun has a small size, it works well for projects with tight corners or small surfaces. It employs high temperatures to ensure smooth gluing and ample stickiness. Rest it on the built-in stand for temporary and safe storage. The 5-foot cord enables free movement over larger workspaces. The Hot Melt ABC-E20W Glue Gun uses a continuous-duty heating element to melt the plastic glue, which the user pushes through the gun either with a mechanical trigger mechanism on the gun or with direct finger pressure. The glue squeezed out of the heated nozzle is initially hot enough to burn and even blister skin. The glue is tacky when hot, and solidifies in a few seconds to one minute. Hot melt adhesives can also be applied by dipping or spraying.
Features of Hot Melt ABC-E20W Glue Gun:
Upgraded Hot Melt ABC-E20W Glue Gun heats up in 2-3 minutes. Its smart temperature control design enables it to remain constant temperature. It bonds immediately and cools to the touch super quickly, thus being ideal for home use.
Secure power switch with LED light mode makes the glue gun extremely user-friendly. Removable ABS anti-hot cover can well protect your hands from the heat. Flexible support can keep it stable and upright, allowing you to use it at any angle.
Its trigger propulsion can have good control of the glue flow, helping you save a lot of glue sticks. With superior and insulated nozzle, the glue gun will not be deformed even after long-term use under 500℉of high temperature.
It is perfect for home, office and school DIY crafts like metal, wood, glass, card, fabric, plastic, ceramics etc.
Features including insulated rubber nose protector
On/off switch and pressure touch feed system
Specifications of Hot Melt ABC-E20W Glue Gun:
Material: plastic & aluminum& PTC ceramics
Working power: 20W
Working voltage: 100 to 240V
Frequency: 50-60Hz
Thermostat Operating temperature: 140 ~ 240 °
Nozzle diameter: 1.3mm
Nozzle material: Aluminum
Warm-up time: 2-3 minutes
Cable length: 140cm
Size: 12.9x11.2x2.98cm
Compatible glue stick: 7mm
Warn Tips:
Don't use in humid or high temperature and keep it away from children.
The nozzle and the glue liquid are hot when the gun is working, please don't touch it.
Don't disassemble the melt glue gun in any case.
Don't pull out of the remanent glue sticks from hot glue gun after every use. Just insert a new one to push the remaining short sticks.
Package Includes:
1 x Hot Melt ABC-E20W Glue Gun Compatible with 7mm Glue Rods