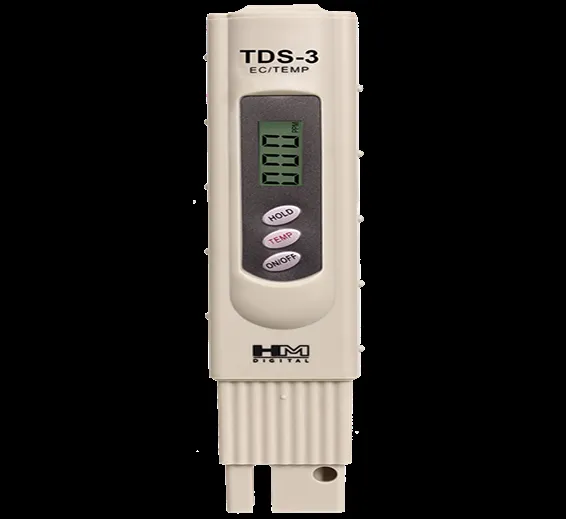 Lights
HM Digital TDS-3 Handheld TDS Meter
SKU: SKU: B242,TMD1,Th1,KRT
With its rugged design and build, the TDS-3 is an ideal meter (tool) that can be used for any application; Ranging from water purification, to hydroponics to industrial waste water treatment. It comes with a black vinyl carrying case, protecting it when carried in a toolbox.
FEATURES:
Hold Function
Auto-off Function (After 10 min.)
Built-in digital thermometer
Includes a carrying case with belt clip
Factory Calibrated with a 342 ppm NaCl solution. (Meter can be recalibrated with a mini-screwdriver).
Specifications:
TDS Range: 0 – 9990 ppm (mg/L)
Temp. Range: 0 – 80 degrees Celsius
Resolution: 0-999: 1 ppm; 1000-9990: 10 ppm (indicated by a 'x10' icon)
Temperature Resolution: 0.1 degree Celsius (Celsius only)
Accuracy: +/- 2%
EC-to-TDS Conversion Factor: NaCl (avg. 0.5)
ATC: Built-in sensor for Automatic Temperature Compensation of 1 to 50 degrees Celsius (33 to 122 degrees Fahrenheit)
Power source: 2 x 1.5V button cell batteries (included) (LR44 or equivalent)
Battery life: 1000 hours of usage
Dimensions: 15.5 x 3.1 x 2.3cm (6.1 x 1.25 x 1 inches)
Weight with case: 76.5g (2.7 oz)
Weight without case: 56.7g (2 oz)
Package Include:
1xHM Digital TDS-3 Handheld TDS Meter