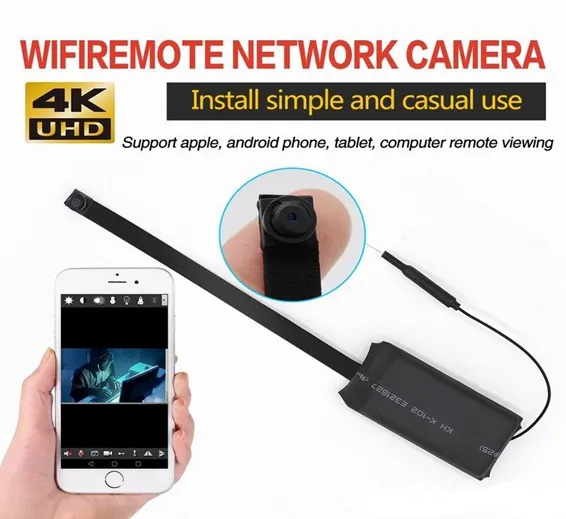 Lights
High Quality HD 4K 1080P Mini Spy Camera
SKU: TMD,Th,KRT
Just need a network and monitor, your mini wifi camera could work anytime and anywhere. HD 4K 1080P mini spy camera is magic and powerful that is quite beyond your imagination! It is a mini hidden wifi camera with amazing functions. This best mini spy camera is in meticulous design based on highly advanced technology and reliable materials, so you can trustingly apply it to your action. Besides, this secret camera recorder supports wireless connection, quite convenient to use. This spycam is highly compatible with iOS and Android system. For further performance, you might as well take a try of this item.
Features of HD 4K 1080P Mini Spy Camera Wifi:
Just need a network, monitor your camera status any time and anywhere!!
MAX: iPhone, iPad, IOS, android system phone and products.
Wireless connection.
IP Network mode. (distance: unrestricted )
Monitor your home camera when you in your office. (for example)
Monitor and record at the same time.
Max 1-64GB TF memory card.
Can use as a phone adaptor
Support video sound recording With night vision
Support taking a photo
Support motion detect video recording
It can record video when charging.
WFI remote control
Support plug to power 24 hours for use.
Specifications Of HD 4K 1080P Small Hidden Wifi Camera:
Pixel: 1200 Mega CMOS
Resolution Ratio: 4K/2k/1080P/720P/640P/320P
Video Format: ASF
Frame Number: 25
Visual Angle: 90 degree
Motion Detection Camera Shooting: Straight line 6 meters
Minimal Illumination: 1LUX
Compressed Format: H.264
Recording Range: 5㎡
Consumption: 240MA/3.7V
Battery capacity: 3000mah
Storage Temperature: -20-80 degree centigrade
Operating Temperature: -10-60 degree centigrade
Operation Humidity:15-85%RH
Memory Card Type: TF card
Maximum capacity of memory card: 64GB
Player Software: VLCPlayer/SMPlayer
Computer Operating System: Windows/Mac OS X
Mobile Phone Operating System: Android/iOS
Web browser: IE7 and above,chrome,firefox safari.etc
Package Includes:
1 x 4k Camera module
1 x User manual
1 x Battery
1 x USB cable