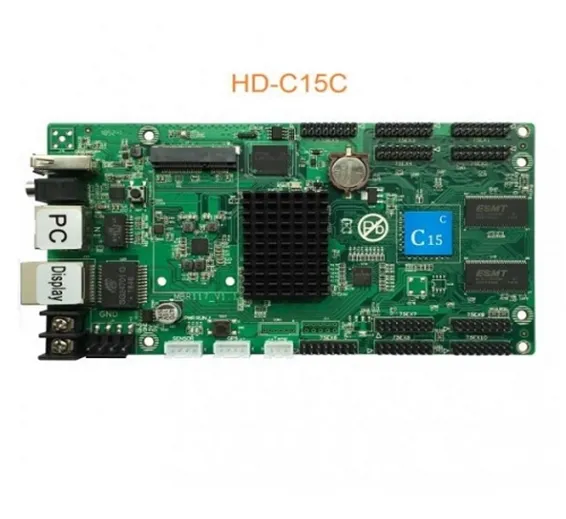 Lights
Huidu Full Color LED Display Module Control Card HD-C15C
SKU: RAWLIXHD-
Advance Payment Only
Type
HD-C15c led controller card rgb video card 320x384 advertising full color screen p10,p8 ,p6 p5 p4
Indoor & outdoor full-color & single/dual color module &Virtual module
SupportMBI5041/5042,MBI5050,MY9221.MY9268 etc and PWM
Scan mode
Support 1-32 scan randomly and static
Sending card
HD-C10: 384W*320H, 1024*120, 240*512 (Suggest working with
Receiving card
together)
Control range
HD-A30+:1024W*512 2048W*256H 512W*1024H
Receiving card
HD-R500: 256W*128H
Range(1PC)
HD-R501: 256W*192H
Usually 1PC Cabinet use 1PC
Receiving card
,
Receiving card
have R500or R501
Gray Scale
0-65536
Video format
AVI, WMV, MP4, 3GP, ASF, MPG, FLV, F4V, MKV, MOV, DAT, VOB, TRP, TS, WEBM, etc.
Image format
BMP, GIF, JPG, JPEG, PNG, GIF,PBM,PGM,PPM,XPM,XBM etc.
Text
Text
and Image being edited directly. Document like Word, Excel, PPT,PPTX
;txt, rtf, html etc. can be edited as well after importing directly.
Time
Classic Analog clock, digital clock and various of clock with image background
Audio output
Double track stereo audio output
Memory
4G Flash memory ; Indefinite expanding of U-disk memory.
Communication
WIFI, 10/100M/1000M RJ45 Ethernet, USB
Working Voltage
4.5-5.5V
Working Temperature
-20-80
Port
IN:5V Power x1, 10/100M/1000M RJ45 x1, USB 2.0 x1,Testing button x1
OUT:1000M RJ45 X1,Audio x1, 50PIN
Port
x 2
Software
HDPlayer