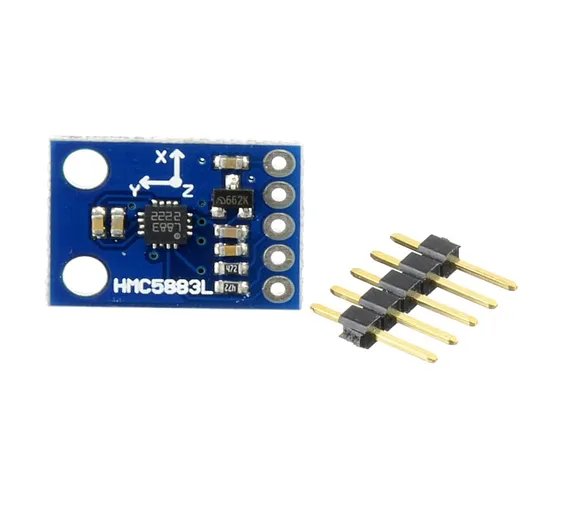 Lights
GY-273 HMC5883L Triple-axis Magnetometer Compass Module
SKU: SB136,D62,IMP10,Th5,KRT511
GY-271 HMC5883L 3-axis Electronic Compass Module Magnetic Field Sensor – Original Chip is designed for low-field magnetic sensing with a digital interface and it is perfect to give precise heading information. This compact sensor fits into small projects such as UAVs and robot navigation systems. The sensor converts any magnetic field to a differential voltage output on 3 axes. This voltage shift is the raw digital output value, which can then be used to calculate headings or sense magnetic fields coming from different directions.
A development board that provides a simple interface for the HMC5883L (three-axis magnetic field module).
In our Multirotor category you will find different multirotor components, to check out more multirotor controllers click on the following category,
Multirotor Controller
Package Includes :
1 x GY-271 HMC5883L 3-axis Electronic Compass Module.
2 x 5*1 Male Burg Connectors
Specifications and Features :
Type: GY-271
Operating Voltage : 3 -5 V DC.
Chipset: HMC5883L.
Communication: I2C protocol.
Measuring range: ± 1.3-8 Gauss.
Dimensions : 14.8 x 13.5 x 3.5 mm.
Weight: 2 gm.
3-axis magnetic electronic compass.
Precise heading information.
Fits into small projects easily.
I2C communication.
Attachments and Links :
GY-271 Datasheet.
2. HMC5883L Datasheet :
Demo Video: