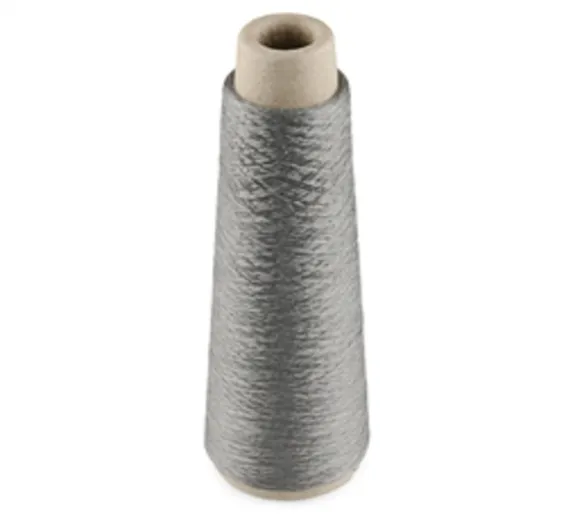 Lights
Fabric Conductive Thread 1Meter
Availability:
Out Of Stock
SKU: B411,IMP,TH,KRT
Fabric Conductive Thread is a creative way to connect various electronics onto clothing. This conductive sewing thread can carry current for power and signals. While not as conductive as traces on a printed circuit board (PCB), this thread makes wearable clothing 'wearable'! This silver conductive thread large spool (approx 350 yards) is a great way to get into wearable electronics without a large upfront cost and a large enough quantity to not be afraid of making a few mistakes. One way of avoiding this is to include a squishy material, such as stretch conductive fabric underneath the stitches, or a non-conductive material, so long as it does not obstruct the electrical connection.
Features Of Conductive String:
Silver conductive thread is widely used in high-temperature resistant sewing thread, smart clothing, conductive transmission, static elimination, signal transmission.
High conductivity and softness make it a great thread for making iPhone gloves.
Conductive sewing thread is usually manufactured for anti-static, electromagnetic shielding, intelligent textiles, wearable technology, data transfer and heating purposes.
Conductive threads are uninsulated and sewing tightly to the metal usually makes for a good connection, though this connection tends to loosen over time where movement occurs.
Specifications Of Best Fabric Conductive Thread:
Low resistance
Good electrical conductivity
High-temperature resistance.
Made from 100% 316L stainless steel fibre by spinning and weaving
Resistance: 28 Ohms/ft
Package Includes:
1 x Silver conductive thread 1Meter
Best Online Shopping website for Fabric Conductive Thread Conductive String in cheap price in Karachi, Lahore, Islamabad, Rawalpindi, Sukkur, Peshawar, Multan, Quetta, Faisalabad and all over Pakistan.