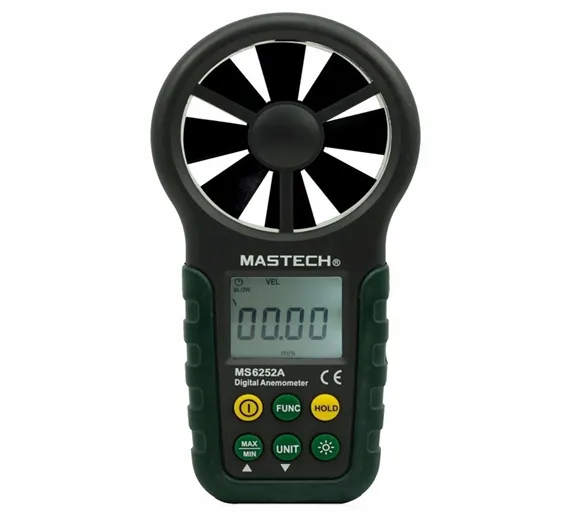 Lights
Docooler Mastech MS6252A Portable Digital Anemometer Handheld LCD Electronic Wind Speed Air Volume Measuring Meter Backlight
Availability:
Out Of Stock
SKU: RAWLIXDoc
Functions:
This meter is a portable, professional measuring instrument with large-screen LCD and backlight, multi-unit switching functions.
This meter can be used for hand-held or fixed measurement.
This meter has the functions of reading hold, maximum, minimum, etc.
It has a low battery indicator and USB real time data uploading functions.
Auto Power Off.
Data holding and maximum/ minimum value display.
Easy to set area dimensions and to store them into the meter's internal memory for next power on.Various units for options: units of area (m2, ft2), units of wind speed (m/s, km/h, mil/h, ft/m, ft/s, knots) and units of air volume (CMS, CMM, CFM).
Low battery indication.
Can also be used for industrial and home purpose such as measuring wind speed of CPU computer fans, air conditioners, air blowers, etc.
It can be turned off by pressing the Power key.And it can also turn off its power automatically.
You can long press the FUN button to open or close its function of automatic power off.
Specifications:
Display: large screen LCDSampling rate: approx. 0.4 seconds/ timePower supplied by: 1 * 9V 6F22
Product size: approx. 17 * 8.5 * 3.8cm/ 6.7 * 3.3 * 1.5
Product weight: 162g/ 5.7ozPackage size: 18.2 * 11 * 6.2cm/ 7.1 * 4.3 * 2.4
Package Include:
1x Mastech MS6252A Portable Digital Anemometer Handheld