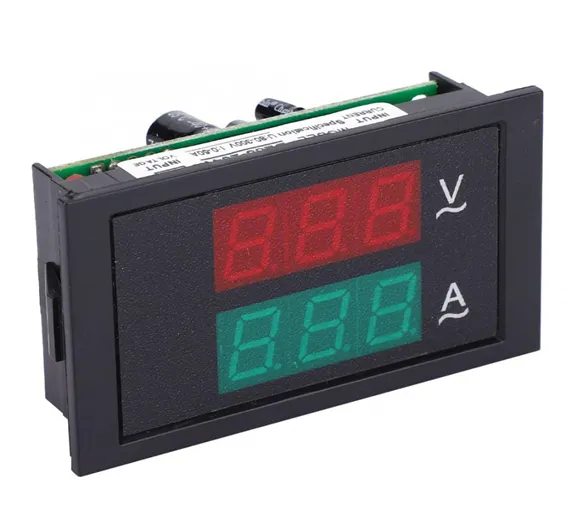 Lights
DL85-2041 AC Voltmeter And Ammeter With LED Display Module
SKU: B414,TMD20,Th2,KRT
DL85-2041 is AC voltmeter and ammeter with LED display module which can be used in a variety of panels and projects. DL85-2041 is a very useful meter that can be part of your next project which is going to help you to display ampere and volt on a single meter.
Specification and Features of DL85-2041 AC Voltmeter And Ammeter With LED Display Module:
Display the AC voltage and current simultaneously by LED digital tube.
Including one independent small precise current transformer, you can lengthen the cable.
Easy measurement, just connect to power and lead the wire through the current transformer.
Wide measurement voltage and current range: AC voltage: AC 80-300V; AC current: AC 0-50.0A.
to remind you to turn off the high-power appliances, preventing safety problems and saving electricity.
Specifications:
Material: plastic.
Color: show as pictures.
Size: 70*40*39mm.
Measurement range: AC 80-300V 0-50.0A.
Power supply: < 0.2V*A.
Installation: Embedded installation.
Accuracy: 1% ± 2digit.
Measurement speed: About 2 times per second.
Display Type: LED digital tube.
Note:
There might be a few color distortions due to different computer resolutions.
There might be a slight error due to different hand measurements.
Buy Digital AC Voltmeter and Ammeter with LED Display Module Dl852041 at Pakistan's Best Online Shopping Store at cheap price. Here you get a wide range of volt amp meter modules for Arduino. We Deliver in Gujranwala, Karachi, Lahore, Islamabad, Rawalpindi, Multan, Quetta, Faisalabad and all over Pakistan.
Package includes:
1 x AC Voltmeter and Ammeter with LED Display Module Dl852041