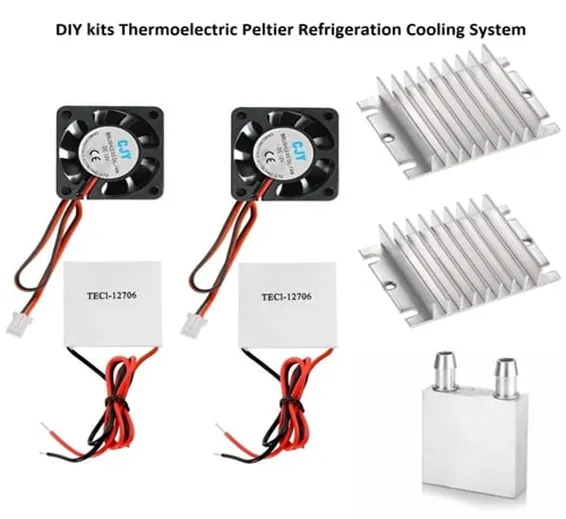 Other Components
DIY kits Thermoelectric Peltier Refrigeration Cooling System Water cooling+ fan+ 2pcs TEC1-12706 Coolers
SKU: IMP50,Th20,KRT13
With the wide applications of semiconductor cooling, more and more DIY enthusiasts are interested in it. It's a question that how to make refrigerating capacity to a more great extent in water cooling applications. This DIY kit could be just to your taste.
Features:
Adopt TEC1-12706 semiconductor chilling plate, good quality for use.
Complete sealed structure, isolating the moisture in the air.
Higher reliability than others.
Include 1*TEC1-12706, 1*conduction cool module, 1*water block, 1*fan, 1*thermal grease, 1*base board and a pack of screws.
Lightweight and mini in size, easy to install.
Great DIY kit for electronic enthusiasts in semiconductor cooling applications.
Note:
The conduction cool module can frost when the temperature is under -25°C.
TEC1-12706: one side with words is the refrigeration side, the other side is heat dissipation side.
Must install heat sink or water-cooled radiator on the heat dissipation side; otherwise will burn the Peltier.
The DC power is not included in this kit, please prepare it by yourself.
Specifications:
Semiconductor Chilling Plate: TEC1-12706
Size: 40 * 40 * 3.75mm
Internal Resistance: 2.1~2.4Ω
Max. Temperature Difference: 67°C Above
Rated Voltage: 12V(Vmax. 15V, Starting Current 5.8A)
Working Current: Imax.=4~4.6A(Rated 12V)
Refrigeration Power: Max. 50~60W
Working Environment: -55~83°C
Sealing Process: Standard 704 silicon rubber sealing all sides
Fan: DC 12V
Conduction Module Size: 60 * 45 * 21mm
Water Block Size: 40 * 40 * 12mm
Fan Size: 40 * 40 * 10mm
Package Size: 12 * 9 * 7cm / 4.72 * 3.54 * 2.75in
Package Weight: 211g / 7.44oz
Package Includes:
2 * Conduction Module/Heat sink
1 * Water Block
2 * TEC1-12706
2 * Fan
1 * Pack of Screws