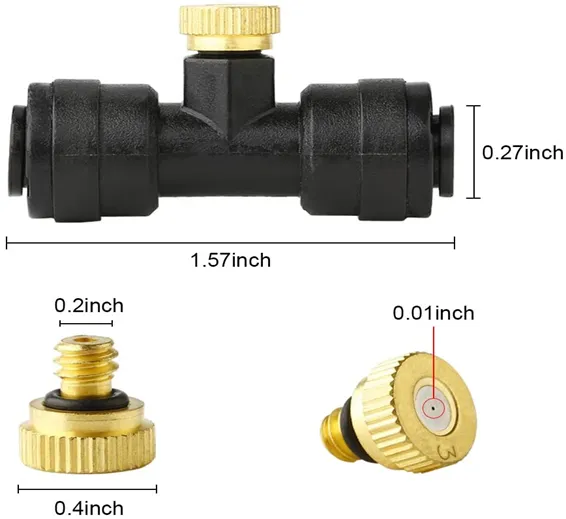 Lights
Disinfection Mist Making Nozzle and T base Fogging Sanitization
SKU: RAWLIXDis
Water Spray Hose Nozzle Sprinkler is made of quality brass material, corrosion-resistant and durable, long service lifespan, beautiful brass golden colour, high-grade looking. The two main uses of spray nozzle are to distribute material over a large area and to generate a liquid surface area. This water nozzle is best for your outdoor use. This water high-pressure nozzle is easy to install and brass misting nozzle can be used for a large area of spray and reduce the temperature quickly.
Features Of Water Spray Nozzle Sprinklers Misting Cooling:
Made of durable brass and stainless steel material.
Leak-proof, self-sealing o-ring included with each nozzle.
No tape or sealant is required.
Heavy-duty brass construction
For outdoor use only.
For cold water use only.
The nozzle requires simple maintenance; soaking periodically in misting nozzle cleaner to remove mineral deposits that may accumulate with usage.
Specifications Of Brass Head Water Sprinkler:
Thread: 10-24UNC
Material: brass body with stainless steel orifice
Pressure: 2-120 Bar
Material: Brass&Stainless Steel
Colour: Brass
Height: Approx.10mm
Diameter: Approx.9mm
Package Includes:
1 x Disinfection Mist Making Nozzle and T base Fogging Sanitization
Best Online Shopping website for Water Spray Nozzle Sprinkler Lawn Garden Water Nozzle Best Water Sprinkle Nozzle in cheap price in Karachi, Lahore, Islamabad, Rawalpindi, Sukkur, Peshawar, Multan, Quetta, Faisalabad and all over Pakistan.