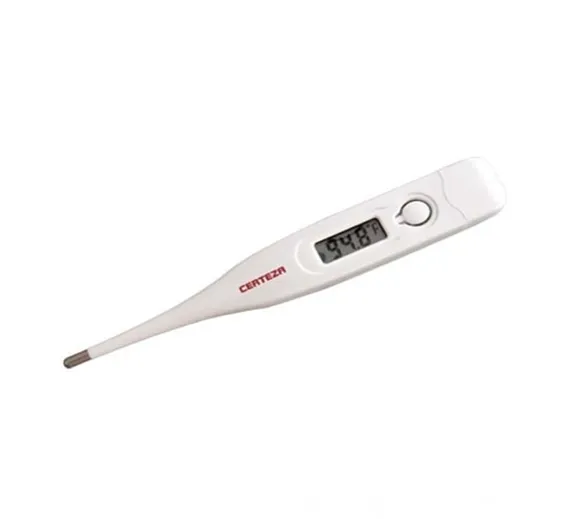 Lights
Digital Thermometer Certeza FT-707
Availability:
Out Of Stock
SKU: B414,TMD,Th,KRT
This digital thermometer certeza FT-707 is a high-quality product that you can easily use. This fever thermometer FT707 is very necessary medical good in your home nowadays, with the continuing spread of the coronavirus, it's become more important than ever to have a thermometer in your medicine cabinet. One of the main symptoms of the coronavirus is a high fever, so if you or someone you care for is starting to feel ill, you'll want to determine body temperature and you can easily measure by using this best temp meter. This digital clinical thermometer is light-weight, waterproof, auto-shutdown, fever Alert, beeps when complete and also have many other excellent features.
Features Of Digital Standard Thermometer Certeza FT707:
Digital Thermometer
Clinical accuracy
Waterproof
Auto shut-off
Fever Alert
Break resistance
Beeps when complete
Memory recall
For use at multiple sites
BPA Free, Latex Free
No mercury or glass
Hold the memory of last measured test
With protective cover
Medical product
Specifications Of Digital Fever Thermometer:
Size: approx. 1.7 x 12.4 x 1.0 cm
Weight: approx. 11g, including battery
Range: 90.0°F – 109.9°F
Accuracy: ±0.2°F
Battery: 1 x 1.55V LR41
Package Includes:
1 x Certeza FT-707 Fever Thermometer
1 x Battery
1 x Storage case
1 x User Manual
Best Online Shopping website for
Digital Thermometer
Certeza FT-707 Best Fever Thermometer Body Temperature Measurement Device in cheap price in Karachi, Lahore, Islamabad, Rawalpindi, Sukkur, Peshawar, Multan, Quetta, Faisalabad and all Pakistan.