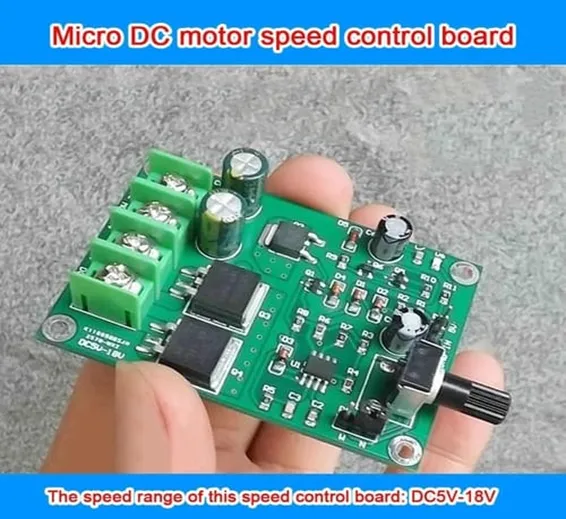 Lights
DC Motor Speed Controller 15A 200W ZLTSB-18V
SKU: B418,Th10,KRT
Often we want to control the speed of a DC motor on demand. This intentional change of drive speed is known as speed control of a DC motor. It is a simple pulse-width-modulated speed controller providing smooth control with almost no jerks.The speed control board can be connected with a PWM signal of about 5V 10KHZ or a voltage of 0-5V, that is, it can be connected with a PLC. There is no soldering involved, so it is perfect for quick prototyping and modeling, especially for those not having easy access to requisite raw materials
Features Of High Power 15A 200W Stepless Speed Governor:
Mini wide voltage DC motor governor
Positive and negative control PWM DC motor governor.
using the latest low voltage drive technology
suitable for voltage wide DC 5-18V
It has a self-recovery fuse and also suitable for LED dimming.
It can be connected with PLC
It is easy to Use
Ideal for many different applications
Specifications Of Mini PWM Permanent Magnet Dc Motor Speed Controller:
Model: ZLTSB-18V
Speed Governor Size: 68 * 48 * 15mm(length * width * height )
voltage:5V-18V
Rated current: 12A
PWM output range: 0% -100%, the motor can be fully tuned and run at the highest speed.
Frequency: 13kz
Scope Of Application:
Within 5V 60W
within 6V 70W
within 9V 110W
within 12V 150W
within 15V180W
within 18V200W can be used.
Note:
The speed control board is protected by the reverse power supply voltage. The speed control board does not work when the positive and negative input voltages are reversed. This is very important. Even experienced people can hardly guarantee that they will not make this mistake. If there is no protection, the governor will be burned immediately.
The speed control board has a motor slow-start function, which increases the motor current to a normal value at a uniform speed within 2 seconds. Without this function, the current is very large when the motor starts, and the motor will accelerate suddenly, which is easy to damage the motor load equipment and speed regulation. Board, power supply.
Package Include:
1x Motor speed controller
Best Online Shopping Website For DC Motor Speed Controller 15A 200W ZLTSB-18V high Power PWM Permanent Magnet Stepless Speed Governor in cheap price in Lahore Islamabad Karachi Multan Sukkur Rawalpindi Faislabad Quetta and all over Pakistan