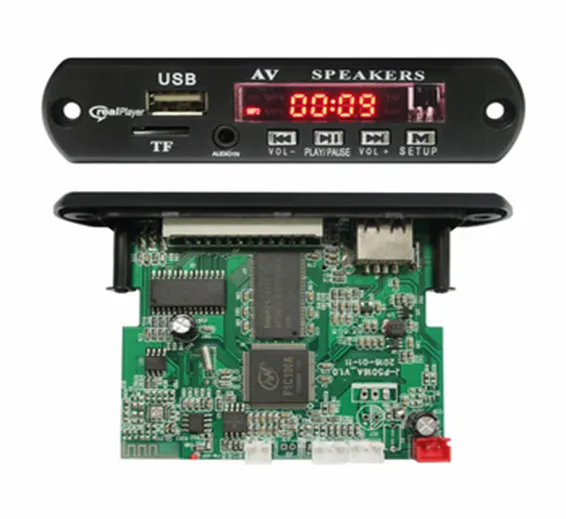 Video Players
Bluetooth Usb Mp4 Video Fm Radio Kit Player in pakistan
SKU: D59,TMD5,Th2,KRT
Product Description:
Minimum System Power Consumption MP5 Player Circuit Module
200ma/5v power supply
Output AV signal:720P(HD)
Support IR(With Remote Control)
Support LED Display
Support USB/SD/MMC card
Support FM.
MP3/MP4/MP5 format compatibilities
The program is constituted by integration decoding chip, incorporate audio decoding circuit with DA together, greatly improved the system stability and reduced the cost. The economic design of built-in MPEG audio/video decoder and HDCD decoder makes the perfect Interface function and reasonable pin layout.
Features:
5V DC Power Supply,Support USB,SD Card
Support multiple coding format MPEG-1, MPEG-2, MPEG-4, H264 XVID video decoding max 1280 * 1280. Built-in 2 channel outputs.
Support Dynamic setting, Digital photo,with 8*16 SDRAM;
Drop-down menu Settings,Operation more convenient and comfortable;
Super compatible RM,RMVB,DVD,SVCD,VCD,DVCD,DVIX,FLV , MKV,AVI,MP3 etc. Perfectly read MP3, WMA,OGG,FLAC,ACC,APE;
Support e-book, easily browse TXT text
Support OSD(Chinese, English, French, Portuguese, German, Danish, etc),
Video output support:CVBS
Audio output support:stereo(R/L)
Support setup VFDS/LCD/LED display
Support insert FAT32 format big hard disk
Support IR control
Support HD resolution(1280*720)
Support RM/RMVB(1280*720)
Support Picture: JPEG,BMP,Kodak PICTURE,CDG;
Support recording
Support Video format:RM,RMVB,DVD,SVCD,VCD,DVCD,DVIX, MPEG4 ,AVI,VOB etc;
Support Audio format:MP3,WMA,HDCD;OGG,FLAC,ACC,APE
FM 87.0---108.0MHZ
With AUX input
Intelligent software upgrades
Bluetooth Mp4 Fm radio Player, Support: Video / AUX / USB / TF / SD / FM