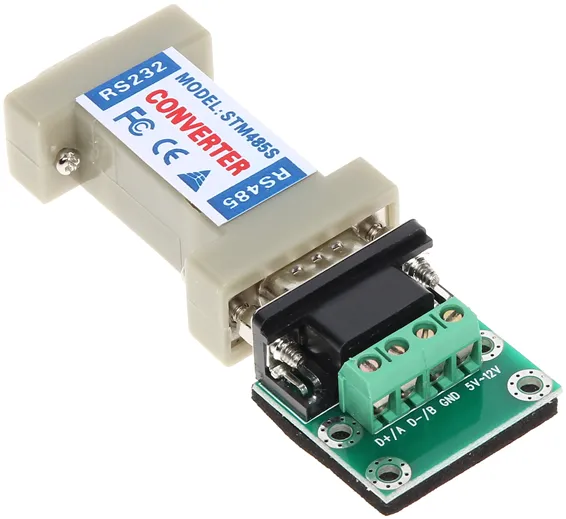 Lights
Bi directional Communication data RS232 To RS485 Serial Converter STM485S
SKU: B 207 , D 91,IMP50,Th20,KRT14,N54
Bi-direction RS232-485 Serial Converter is mainly used for telecommunication between end to end or end to ends of main electronic controllers. The converter works between the main controller and submachine station to complete System Industrial automatic control, universal card system, system access control, parking system, banking system self-served, bus system tickets, restaurant menu system, personal care system, and road toll system, etc.
RS232-485 converter can transfer the TXD and RDX signals of RS-232 serial port to parallel half-duplex RS-485 signals without external power source because it can collect electricity supply Pin 3 RS-232 port and also, after the request to send RTS to pin 7, the Ready DTR pin 4 help supply the converter this process control presented makes the easy application of the hardware configuration and software.
Specification:
Interface: Compatible with EIA /TIA RS-232C Standard and RS-485 Standard
Electronic interface: At the side of RS-232 is a DB9 female (Hole -type) connector. At the side of RS-485 is DB9 Male (Needle-Type) Connector, with a connection board.
Working mode: Asynchronous, half-duplex, differential transmission.
Transmission media: Twisted pair or shielded twisted pair (STP)
Transmission rate: 300-115200bps
Telecommunications protocol: Transparent
Mechanical dimension: 95mm x 33mm x 17mm
Transmission distance: 1200m (RS-485), 5m (RS-232)
Working environment: -10 degrees Celsius to 85 degrees Celsius, relative humidity: 5% to 95%
Signals: RS-232 232: TXD, RDX, RTS, CTS, DTR, DSR, DCD, GND;RS-485: Data, Data-, GND
Wiring and signals:
End RS232 (DB9 female)
End RS485 (DB9 male)
The converter connects the RS232 port with DB9 female to terminal RS485 port with DB9 male terminal with the pad wiring.
Buy Bi-directional Communication data RS232 To RS485 Serial Converter STM485S at Pakistan's Best Online Store at cheap price. We Deliver in Gujranwala, Karachi, Lahore, Islamabad, Rawalpindi, Multan, Quetta, Faisalabad and all Over Pakistan
Package Include:
1x Bi-directional Communication data RS232 To RS485 Serial Converter STM485S