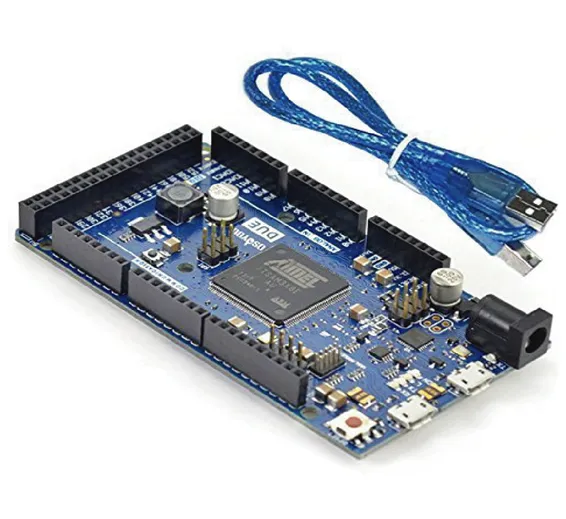 Lights
Arduino Due, AT91SAM3X8E ARM Cortex-M3 Board with Micro USB Cable in Pakistan
We have included High Quality 6 Inch Micro USB Cable with A to Micro B type gold plated connectors in this pack which provides a high-quality connection Arduino Due and a USB-capable computer. This cable can also be used for everyday tasks such as data synchronization and file transfers.
SKU: B42,D155,IMP20,L2,Th5,KRT
This is Arduino Due, AT91SAM3X8E ARM Cortex-M3 Board with Micro USB Cable. The Arduino Due is a microcontroller board based on the Atmel SAM3X8E ARM CortexM3 CPU. It is the first Arduino board based on a 32bit ARM core microcontroller. It has 54 digital input/output pins (of which 12 can be used as PWM outputs), 12 analog inputs, 4 UARTs (hardware serial ports), a 84 MHz clock, an USB OTG capable connection, 2 DAC (digital to analog), 2 TWI, a power jack, an SPI header, a JTAG header, a reset button and an erase button. The Arduino due board contains everything needed to support the microcontroller; simply connect it to a computer with a micro USB cable which is been included in the product pack or power it with an ACtoDC adapter or battery to get started (You need to buy it separately at ). The Due is compatible with all Arduino shields that work at 3.3V and are compliant with the 1.0 Arduino pinout.
Package Includes :
1 x Arduino Due, AT91SAM3X8E ARM Cortex-M3 Board
1 x 6 Inch Micro USB Cable – A to Micro B
Technical Specifications
| | |
| --- | --- |
| Main Processor | AT91SAM3X8EA |
| Working voltage | 3.3V |
| Input voltage | 712V |
| Input voltage | 620V Max |
| Digit I/O port 54 pcs | 12 PWM Output |
| Output current | 130mA |
| 3.3V power supply pin | can supply 00 mA current |
| SRAM96 KB | two banks: 64KB and 32KB |
| Clock frequency | 84 MHz |