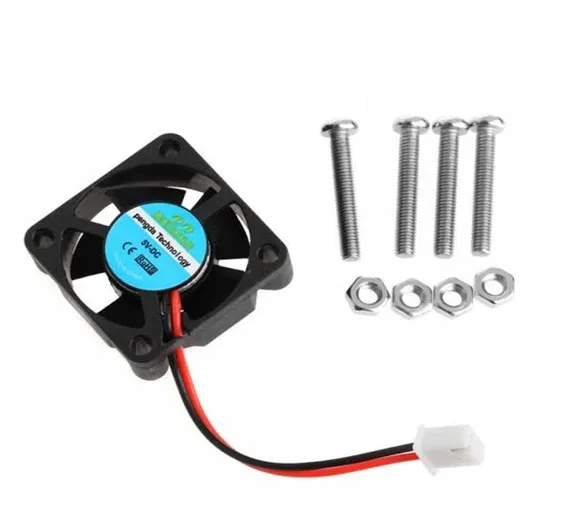 SKU: B 125 , D 100,IMP50,Th20,KRT124
5V Raspberry Pi Fan keeps Raspberry Pi computers truly cool with a dedicated 5V, 3.3mm square fan. This Raspberry Pi Fan is ideal when you're running it near 100% load all the time. Mounts to our Raspberry Pi S.A.F.E. (for B+ and V2) top plate (4-40 x 5/8″ bolts & nuts not included). We've successfully used the onboard expansion port header to power our fan installations. Lift the retainer tab on the ground (black lead) and pull it out, and plug the connector (with the remaining red wire) to the corner-most pin. The ground pin can be then mounted to the pin 2 spaces down from it to give you a solid 5V for the fan.
Note: It's always better to run the fan from a separate power supply, and this hack works best with a strong 5V 2A power supply feeding the Pi.
Features & Specifications of 5V Raspberry Pi Fan:
Brushless sleeved 6000RPM DC motor
9 blade fan, 6.8CFM
35,000-hour life
Operating voltage: 5V
Current: 0.2 A
Brushless DC fan
Fan dimensions: 30mm x 30mm x 8mm
Wire length: 3.25" / 80mm
Fan weight: 6.2g / 0.22oz
Mounting screws & nuts included
Can be powered by mushing the connector onto the 5V/GND pins of the Pi expansion port.
Package Includes:
1 x 5V Raspberry Pi Fan + screws & nuts