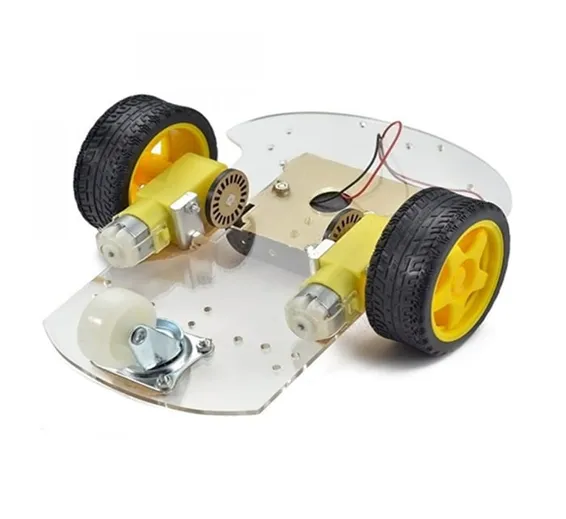 This 2WD smart robot car chassis kit is a cheap base for everyone interested in setting up a Raspberry Pi / Arduino powered robot. The robot chassis with motors feel strong enough, acrylic chassis with abundant screw holes is solid enough to hold all the lot. The mechanical structure of the robot car is simple, it is easy to install. This Arduino 2 wheel robot is educational Kit for beginners who are studying robotic projects. This robot chassis kit Arduino with coding and ideal for DIY. science education kit is grateful for children's intelligence development.
Features Of 2WD Arduino Car Chassis Kit:
Mechanical structure, easy to install.
This car has tachometer encoder
With 4 cell AA battery holder and power switch.
Can be used for distance measurement, velocity.
Can use with other devices to realize the function of tracing, obstacle avoidance, distance testing, speed testing, wireless remote control.
Gear Motor reduction radio: 1:48.
Size: 22cm x 14.7cm, wheel size: 7cm x 7cm x 2.6cm.
Note: motor power supply is 3V~6V.
Specifications Of 2WD DIY Transparent Motor Smart Robot Car Chassis Kit:
Motor Voltage: 3VDC, 5V,DC 6V
Current: 100 MA,120MA
Reduction rate: 48:1
RPM (With tire): 100,190,240
Tire Diameter: 66mm
Car Speed(M/minute): 20,39,48
Motor Weight (g): 50
Motor Size: 70mm*22mm*18mm
Noise: 65dB
Package includes:
1 x 2WD V15 1 Smart Car Floor
2 x Geared Motor 1:48 JSDJ 1
1 x Battery Box DCH 1
1 x Caster WXL 1
2 x Encoder Disk MBP 1
4 x M3*28 Screw LS 2
2 x Smart Car Wheels CLV 1
10 x M3*7.5 Cap Screw LS 1
15 x M3 Screw Nut LM 1
4 x M3*13MM + 6 Copper Cylinder TZ 1
4 x Acrylic Fasteners JGJ V1
Best Online Shopping website for 2WD Smart Robot Car Chassis Kit For Arduino Projects Robot Car Toy Arduino Robot in cheap price in Karachi, Lahore, Islamabad, Rawalpindi, Sukkur, Peshawar, Multan, Quetta, Faisalabad and all over Pakistan.
SKU:

IMP,L,Th5,KRT

/
Category: Robotics
/