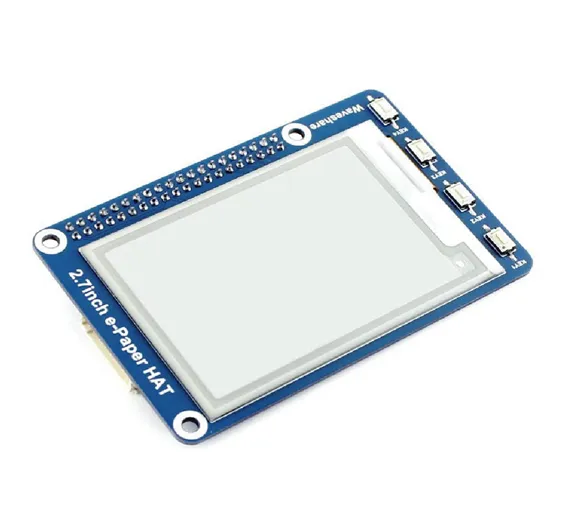 Lights
264x176 Resolution 2.7 Inch e-Paper LCD Display Module for Raspberry Pi
No backlight, keeps displaying last content for a long time even when power down
Ultra low power consumption, basically power is only required for refreshing
Compatible with Raspberry Pi 2B/3B/3B+/Zero/Zero W
SPI interface, for connecting with other controller boards like Raspberry/Arduino/Nucleo, etc.
Comes with development resources and manual (examples for Raspberry Pi/Arduino/STM32)
SKU: RAWLIX-Resolution2.7-B1
This STM32 module incorporates HAT E-Ink Screen technology with SPI Interface for Embedded Controller. The primary target of this LCD display module is small footprint computers or controllers like Raspberry Pi 2B, 3B, Zero, Zero W, Arduino, STM32 etc.
264x176, 2.7inch E-Ink display HAT for Raspberry Pi, three-color, SPI interface
This is an E-Ink display HAT for Raspberry Pi, 2.7inch, 264x176 resolution, with embedded controller, communicating via SPI interface.
Due to the advantages like ultra low power consumption, wide viewing angle, great effect under sunlight, it is an ideal choice for applications such as shelf label, industrial instrument, and so on.
Features:
No backlight, keeps displaying last content for a long time even when power down
Ultra low power consumption, basically power is only required for refreshing
Compatible with Raspberry Pi 2B/3B/3B+/Zero/Zero W
Onboard 4x Keys
SPI interface, for connecting with other controller boards like Raspberry/Arduino/Nucleo, etc.
Comes with development resources and manual (examples for Raspberry Pi/Arduino/STM32)
Package includes:
2.7inch e-Paper HAT x1
RPi screws pack (2pcs) x1
Technical Specifications
| | |
| --- | --- |
| Operating voltage | 3.3V/5V |
| Interface | 3-wire SPI, 4-wire SPI |
| Outline dimension | 85mm x 56mm |
| Display size | 57.288mm x 38.192mm |
| Dot pitch | 0.217 x 0.217 |
| Resolution | 264 x 176 |
| Display color | black, white |
| Grey level | 2 |
| Full refresh time | 6s (Do not support partial refresh) |
| Refresh power | 24mW(typ.) |
| Standby power | <0.017mW |
| Viewing angle | >170° |