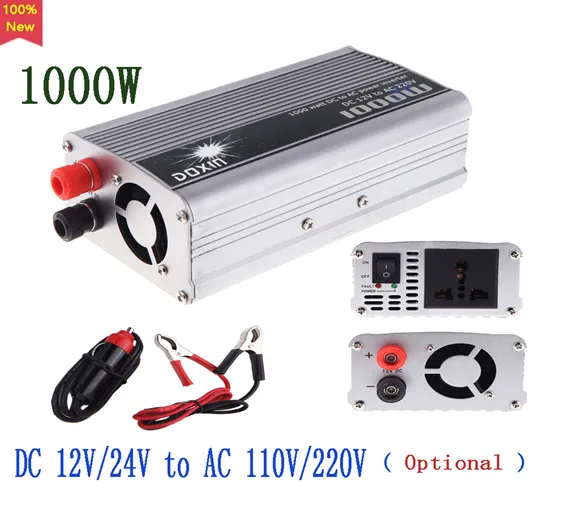 Lights
24V To 220V 1000W Inverter
SKU: TMD,Th,KRT
Features:
1000W power inverter, convert DC 12V to 110V/220V or 24V to 110V/ 220V ( optional )
Perfect for in-car use, powers up notebook/laptop, DVD player, digital camera, etc.
Steady and precise output voltage.
Over temperature protection, overload protection, over voltage protection.
Audio alarm of low battery level prior to auto shut down.
Built-in cooling fan with low noise.
Specifications:
Input voltage: DC 12V or 24V
Output voltage: AC 110V or 220V 50 Hz
Output power: 1000W
Output waveform: Modified sine wave
Low battery alarm (no load): DC 10.2~10.8V or 22.2V ~22.8V
Low battery shutdown (no load): DC 9.7~10.3V or 21.7V~22.3V
High battery shutdown (no load): DC 14~16V or 26~28V
Peak efficiency: >95%
Working temperature: 0~65 degree centigrade
Item size: Approx. 200*95*55mm
Item weight: 800g
Package size: Approx. 250*130*100mm
Package weight:1500g
Note: please leave the message tell us 12V 24V with output 110V 220V Which is your need, Thanks.
Package List:
1 * Power Inverter
1 * Cigarette Plug Cable
1 * Battery Clip Cable