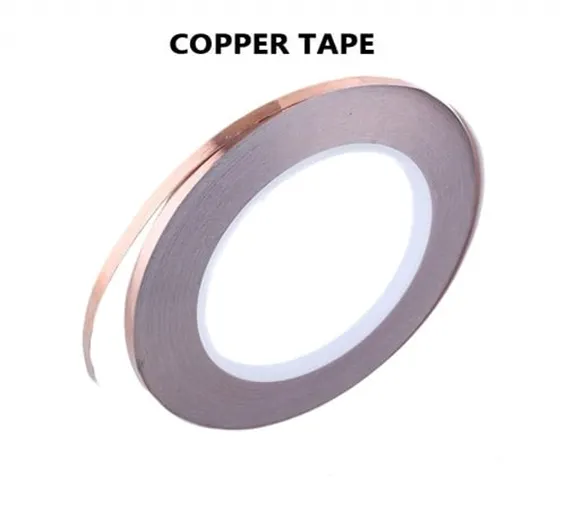 Lights
10mmx20m Copper Foil Tape
SKU: B282,IMP10,Th3,KRT
10mmx20m Copper Foil Tape is recommended for electrostatic shielding, cable wrapping, and stained glass work. 10mmx20m Copper Foil Tape may or may not be conductive, and their adhesive may also be conductive. Copper foil tape is chemically resistant and may or may not have a liner. Copper foil tapes are very conformable and ideally suited for critical shielding and masking applications. The tapes have a multitude of uses in electronic design and production.
Features of 10mmx20m Copper Foil Tape:
Products environmental protection materials, special processing technology.
Mainly used for electric signal shielding, anti-static, radiation protection.
The products rely on the excellent electrical conductivity of copper, double-sided conduction and high-temperature resistance.
The product is adhesive and easy to use.
Stable, Durable and Flexible.
High-Quality Material.
Widely used in transformers, mobile phones, computers, LCD displays, notebook computers, photocopiers and other electronic products, where electromagnetic shielding is needed.
Specifications of 10mmx20m Copper Foil Tape:
Material: CU
Colloidal components: Conductive adhesive
Adhesion: 1.5 ~ 1.3kg / 25mm
Temperature resistance: -10 ℃ --- 120 ℃
Elongation: 7-7% to 3-4%
Colour: Gold
Size: 5mmx20m
Package Includes:
1 x 5mmx20m Copper Foil Tape