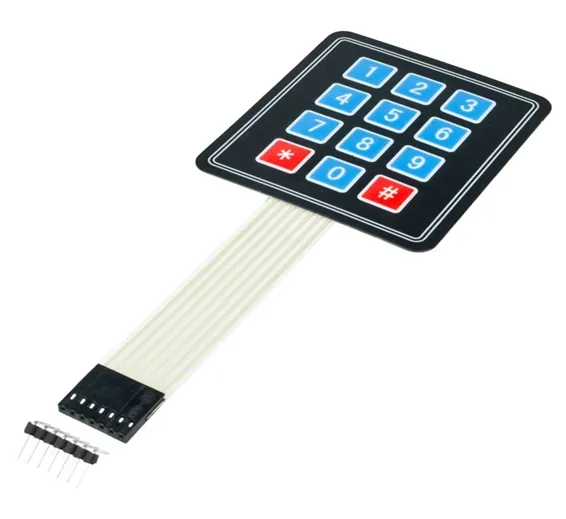 SKU: B 202 , D 44,IMP100,Th50,KRT,N152
This Arduino 4×3 Matrix 12 keys Membrane Switch Keypad is high-quality soft touch feeling button keypad with 100 million life-stroke lifespans and good resistance to environmental conditions. This 4×3 Key Matrix Membrane Switch Keypad is a high-quality product at very low cost for your application needs.This 12-button keypad provides a useful human interface component for microcontroller projects. Convenient adhesive backing provides a simple way to mount the keypad in a variety of applications.
The Keypad 4×3 features a total of 12 buttons in Matrix form. This is a membrane keypad with no moving parts. A female 7-pin berg connector is require for interfacing it with your microcontroller circuits.
Features :
Ultra-thin design & adhesive backing provides easy integration to any project
Excellent price-performance ratio
Easy communication with any microcontroller
5 pins 2.54mm pitch connector, 4×3 type 12 keys.
Sticker can peel off for adhesive mounting.
Used widely in industrial and home electronic equipments, instrument, etc.
This allows a microcontroller to 'scan' the 7 output pins to see which of the 12 buttons is being pressed.
Package Includes :
1 x 4×3 Matrix 12 keys Membrane Switch Keypad
SKU:

B 202 , D 44,IMP100,Th50,KRT,N152

/
Category: Components
/