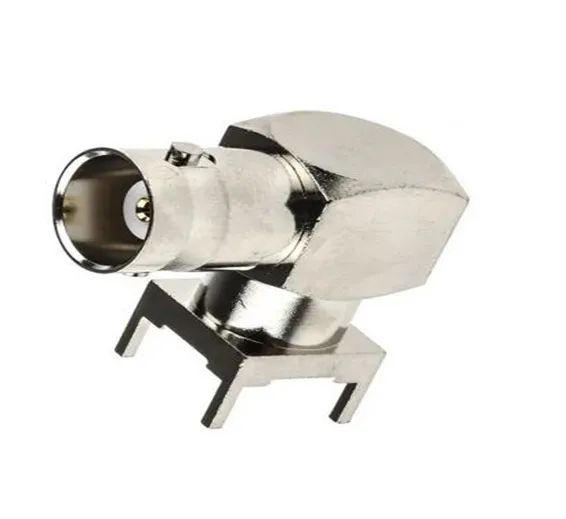 The connector has a robust nickel-plated body and features the secure and convenient bayonet coupling system typical of a BNC connector. The center pin contact is gold plated, for excellent conductivity over the long service life, and there is also a PTFE insulator for increased reliability.
Features:
90° BNC plug
The nickel-plated body provides a heavy-duty build quality
Gold contacts ensure maximum efficiency
50Ω impedance
Operating frequency of 4GhZ
Insulation material: PTFE
Application:
BNC connectors are used in a variety of RF signal applications. Though they are most commonly used in radio and television broadcast applications, they can also be used in medical and test equipment.
Antenna connection
Cable Modems
Telecom
Medical Equipment
Satcom
CCTV
Specifications:
Attribute Value Gender Female Mounting Type PCB Mount Impedance 50Ω Termination Method Through Hole Body Orientation Right Angle Bulkhead No Operating Frequency 4GHz Body Plating Nickel Polarity Normal Contact Material Brass Contact Plating Gold Technical
Specifications:
Features Value Material / Mechanical specifications Body Brass Central contact Brass Insulator (internal) PTFE Plating Body Nickel Central contact Gold No. of functions 500 Electrical Contact Resistance Central contact 1.5mΩ max Outer contact 0.5mΩ max Insulation Resistance 5000MΩ min Insulation voltage 750V Working Voltage 335V Frequency Range 50Ω DC to 4Ghz 75Ω DC to 1Ghz Temperature Range -65°C to +85°C
Dimensional Drawing
Datasheet
Buy BNC Female Connector PCB Mount Right Angle 50Ω at Pakistan's Best Online Store at cheap price. Here you get the best BNC connectors. We Deliver in Gujranwala, Karachi, Lahore, Islamabad, Rawalpindi, Multan, Quetta, Faisalabad and all Over Pakistan
Package Include:
1x BNC Female Connector PCB Mount Right Angle 50Ω